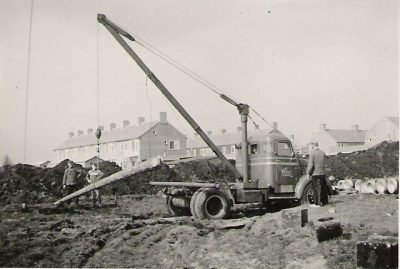 When in 1925 Abraham Boer was asked to transport a few cartloads of gravel, neither he nor any one else suspected that he laid the foundations of a successful and internationally recognized transport company.
Hundred years
Hundred years after accepting the commission of the local authority to provide the muddy roads with gravel, Jan Kees Boer is widely known as a solid and trustworthy partner in logistic services. A firm, where efficiency and quality go hand in hand with innovative and customer friendly solutions.
Development
Just in its first year of existence, the horse and cart were exchanged for a real truck. When seen against the prevailing economic situation of 1925, this step not only showed courageous business sense, but also faith in the firms own ability and capacity.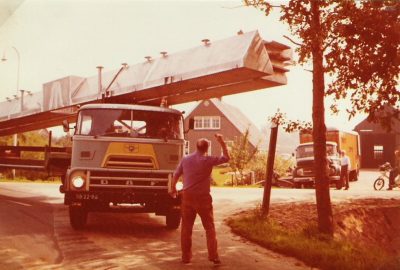 Winch
The first truck made use of a trailer, really not much more than a flat surface on wheels, which allowed the loading and securing of large and complex loads whilst the cabin could be utilized elsewhere. The subsequent addition of trucks with winches and booms ensured that loading and unloading could be managed without third parties.
This was ofcourse long before the invention of advanced, hydraulic cranes with which our modern trucks are equipped.
Hydraulisch
Under our own steam we developed and produced a variety of collars and straps to accommodate the transport of complete yachts, ship engines, or other large constructions.
Solutions
We always managed to create solutions, which consolidated our (inter)national reputation for special transport.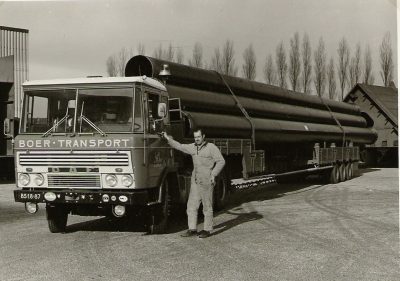 Jan Kees
From 1940 until 1945 the firm only operated as a taxi enterprise. In 1953 Jan Kees son joined the business and special transport was recommenced. His leadership qualities and initiatives encouraged the recovery of the lost market position in the transport sector.
On the road of progress
Today you will meet the yellow-green colours of Jan Kees Boer Transport the name of the company now in many European countries.
JKB: On the road of progress.